Iran – September 2019
Hi Tom
A few observations of my trip, it went exactly as advertised in your itinerary. My main interest was seeing the "old" Persian empire and architecture (world heritage sites). Waking up to the garden view in the Pardis Room at the Abbasi Hotel in Esfahan rather than the street view room was a good introduction to the "old Persia" as were the public gardens, squares with water features & mosques of Esfahan,
The road trip from Esfahan to Shiraz was worthwhile to see the geography of Iran and a step back in time to the rural villages, a contrast to the cities.
A surprise in Esfahan and Shiraz was the exceptional quality of the workmanship in their arts and crafts and the reasonable prices.
A highlight of Shiraz, was the Tomb of the Poet Hafez seen at night, alive with the locals enjoying the surroundings there, and in contrast the Shah Cheragh mosque which would not be out of place in the foyer of a Las Vegas casino, there were many other highlights and observations, but overall a most enjoyable trip
Cheers Howard
4 Week Private Tour in Jordan, Iran, Doha – October 2018
Hi Tom
Thank you for organising our trip. We had a great time.
Jordan was well arranged with just the right amount of time in each place. Jerash was an added highlight as we hadn't realised it would be so well preserved in many parts. Had an excellent guide there so we spent more hours at the site than we would have expected to.
Also had an excellent guide at Petra so once again did more walking there than expected. Our guide also encouraged Des to try walking to the Treasury so that he could explain about things, like the tombs that we could see on the way. Des was very glad he did. However, we returned by carriage.
Weather, of course, was perfect.
We enjoyed Jordan but Iran surpassed our expectations and we loved every minute.
The organisation of the trip was excellent and our driver/guide was the best we have ever had. His driving was very good and he had an excellent knowledge of history and a very personal interest in it.
We found that the roads were very good and Ali's Peugeot very comfortable. It is 5 years old, made in Iran to a 14 yr old Peugeot pattern. I sat in the back seat just about all the time – it was just as good as the front seat and we were not in any winding mountain roads.
We are glad we had the extra day in Esfahan. It meant we had time to do a bit more sightseeing. Such as an evening performance of Zurkaneh in an old water cistern which our guide suggested. It should be on every traveller's itinerary if they have the time. We enjoyed quite a few meals with our guide. He suggested good restaurants in Shiraz, Yazd, Kashan and Teheran. We also went to 2 modern shopping centres with a food court and a very modern highway stop (shopping and food centre) on the way from Kashan to Teheran.
Weather was perfect – just a little rain on our final morning in Tehran.
We really liked Qatar Airways. I found the bed more comfortable than other airlines and slept for 5 hours straight on our return journey. Then another 2 hours. Staff very attentive. Airport very good. The Qatar Business Lounge excellent.
Went to the Islamic Arts Museum [Doha] on two consecutive days. And still didn't see all of it! It's very good.
We would definitely recommend this trip.
Thanks again,
Best Regards,
Barbara
2 weeks in Iran – September 2017
Many thanks for organising our trip to Iran. It was superb and we are much richer for it. Alireza, our guide, was outstanding – a wonderful guide and delightful person.
Marianne and John Starkey
4 Ladies Visit Iran for 3 Weeks – September 2017
Our driver and guide were wonderful, very knowledgeable and courteous. They looked after us well and were very caring. The accommodation was great. Our guide did make good efforts to find places that had the best of this food. Our combi van was very comfortable. The itinerary was great.
It was a great experience!
Thank you, Christine
Janet Douglas & 6 Friends in Iran for 3.5 weeks, April-May 2016
I loved going to Iran and am so glad I did…. Please stress to your colleagues in Iran how happy we were with our guides and driver: the latter looked after us as though we were his dearest relatives and with such good humour!! We adored him and highly recommend him. I think I wrote about how excellent we thought our first guide was – the second was very conscientious and thorough but not quite as empathetic – had a hard act to follow!
Janet Douglas
Iran & Azerbaijan – Private Itinerary – October 2015
We (2 ladies of senior years) have just completed a 12 day holiday in Iran, well organised by Timeless Tours of Neutral Bay. Over the years we have done a lot of travel but nothing in the past came close to this. We were treated like rock stars by the locals, as there was no way we could blend in. Our guide was a 28 year old with a degree in English literature and it was he that helped make this trip so special. He was attentive, informed and his knowledge of Persian history along with his sense of humour were outstanding. Many people thought we were brave travelling to Iran but we found it very safe and the lack of alcohol made late nights doubly safe. My advice is go before the sanctions are lifted and McDonald's arrive.
Jane Gilbert
Iran, 2.5 weeks – April 2014
Hello Tom,
Arrived here in Southern Burgundy on Saturday (17 May) after 2 days in Istanbul where we just took it easy, visited a few places that we missed last time we were there, and recovered from our full on trip in Iran.
We had the most fantastic 17 days in Iran – one of the best travel experiences we have ever had. We felt totally secure, people were friendly, welcoming and generous, we saw all the cultural and historical places we planned to see and then more, and we had the most energetic, smart and funny guide possible – a 29 yo single woman, Bahare, who was happy to talk to us about anything to do with life in Iran. She really helped to make our experience what it was.
And a terrific driver, Ali, who replaced our original driver about 5 days into the trip. Both were polite, generous, and wonderful drivers, especially in Tehran traffic which we decided was much, much more challenging that Jakarta's. The original driver however had rather ordinary navigation skills, and that was tricky for the rest of us in the car. He decided that he wasn't up to the task and Arg-e Jadid replaced him.
The hotels were good, though the one in Hamadan leaves something to be desired. Ready for the bulldozer, I'd say. The Abbasi in Isfahan is, as you know, simply gorgeous. On all occasions were we were comfortable. And we ate Iranian food the entire time. Turned down all offers of "tourist" food.  In summary, organisation and experience were perfect.
The trip fulfilled our hopes and then some. We are so pleased to have been there and are thinking of returning. There are some places we'd like to return to like Shiraz and Isfahan, and others like Mashad, Kerman and Tabriz that we didn't have time to visit.  And there is that famous citadel in Bam
– pity about its proximity to the border with Pakistan and a tendency to have earthquakes.
Such a relief though not to have to wear hijab. I was happy to have to comply while in Iran (small price to pay to experience what Iran has to offer – and that is plenty) but it is hot to have to wear long sleeves, trousers and a long top and scarf all the time (most days and particularly in desert areas were in the mid to high 30s), and I was a bit resentful as a woman to have that restriction while men don't. However, the scarf came off as soon as the doors to the plane were shut before take off from Tehran and I, like just about every woman on the plane, sighed a collective sigh of freedom!
Our very best wishes and thanks to you. We would be very happy for you to pass on our comments to Arg-e Jadid.
Very best wishes, Margaret and Bob
Iran – October 2013
Hi Tom
Thought you might like an update from the second leg of the trip ! As you suggested , we have gathered strength, adjusted the headscarves and are having a ball. We have a driver/guide, Ali, who, though lacking Mansour's excellent English and historical knowledge, is really good on another level, and very interesting to talk to. He has gone out of his way to make sure we see as much as possible eg taking us on a detour so we could see the Caspian Sea. This week has really been quite different from the first tour – fewer mosques and more ancient sites. The people have been so friendly and welcoming – we have even been to an Iranian wedding! Leave on the long hike back to Shiraz tomorrow and then plane to Muscat. The hotels have all been fine, even the "tourist" one last night.
Hope all well there – best wishes Jocelyn (Lawson)
Hi Tom,
I just wanted to say a huge thanks for organizing the tour in Iran for Traudl, Jocelyn and I! I had the most wonderful time in that incredible country and really wish I hadn't had to come home quite so soon. I can't say enough good things about our guide Mansour and driver Ali; they were brilliant and went far above and beyond the call of duty in making our trip comfortable, interesting and filled with warmth and laughter. I will be spreading the word about the beauty and magic of Iran and your work in getting tourists there so I hope that will bring you extra business…
Many thanks again, Jules (Julia Billings)
All going well, trip of a lifetime, Traudl (Moon)
Hi Tom,
Our trip to Iran was excellent.  Thank you for your help with tickets etc. Everything was perfect.  We enjoyed out time with Hassan very much, and especially wanted to let you know that you made a very thoughtful match.
Kind Regards, Ellin and Arie
Our trip to Iran – March 2011
Tom,
As I mentioned on the phone, our trip was terrific. So a big thank you to you and your colleagues at Arg-E-Jadid.
We had no problems apart from not being met at the airport. It was a minor blemish and Ali and Nazinin were very apologetic and compensated us with our taxi fare and dinner, which was much appreciated.
Our guides and drivers were all very good. I don't think I would change the itinerary.. hotels were all fine.
We visited a few places not on the itinerary which we thought were great. Our guide in Tehran took us in the evening to Darband, which was great.
However, I would point out that Tehran is not cheap. Indeed we were soon concerned that we had not taken sufficient cash ($1000 between us) but, once we left Tehran, the cost of eating was so much lower and we only spent $700 over 12 days. Tehran seemed to be 2-3 times more expensive than elsewhere.
We also visited a few other places not on our itinerary by ourselves, or with locals, that we think are worth including. In Shiraz a local lad took us into the Aramgah –E- Shah-E – Cheragh shrine and the huge Azadi Park was a wonderful place to watch Iranian families on a public holiday. We loved walking around at night – particularly in Shiraz, when everyone seemed to be out and about.
We enjoyed Shiraz and Yazd but Esfahan was, as you predicted, the highlight. The square, the mosques and palaces make it a world-class place. We were glad you had saved it for the end of our trip.
The best part of our trip was meeting so many lovely people. Both Tim and I have travelled extensively but we have never been to a country where so many local people come and say 'hello', 'welcome', where are you from?', 'thank you for coming to Iran'. We spent hours in conversation with young men, students, schoolgirls, families, bus drivers etc. Many of them talked about their lives freely – they wanted us to know how they dislike and fear the religious and political establishment, how they wanted change, but have low expectations of change occurring. I think I benefited from having Tim (27) with me as so many people of a similar age wanted to befriend him. We could have filled a plane with young people wanting to come to Australia with us. Very sad….it made us appreciate the freedom we take for granted. A great experience – thank you Tom for arranging it so well.
Colin & Tim Wilson-Brown
November 2009
Iran is a wonderful country to be an independent traveller – provided all the planning and bookings are done properly by an agency as good as Timeless Tours, as was ours when we visited Iran for 15 days. You need to spend some days with knowledgeable guides who will make the sites and sights come alive for you. Then you can also wander about freely, with the only restriction we found being that women tourists have to wear a long scarf (hejab) to cover their hair – something of a time saver each morning! – as well as covering their arms and legs. The accommodation, food and transport (we used planes, inter-city buses and cars) were all very good to excellent. Above all, the young and older people we encountered were friendly, courteous and welcoming – and proud of their long history which has shaped them; their Farsi language; their poets and heroes; the beauty of their land and its historic places. We visited Tehran, Shiraz, Yadz, Esfehan, and Kashan: the most beautiful for us was Esfahan (go there to see why!!), but all of them have special big and small things to see and enjoy… we long to make a return visit to explore more.
Lawson Lobb and Jill Harris.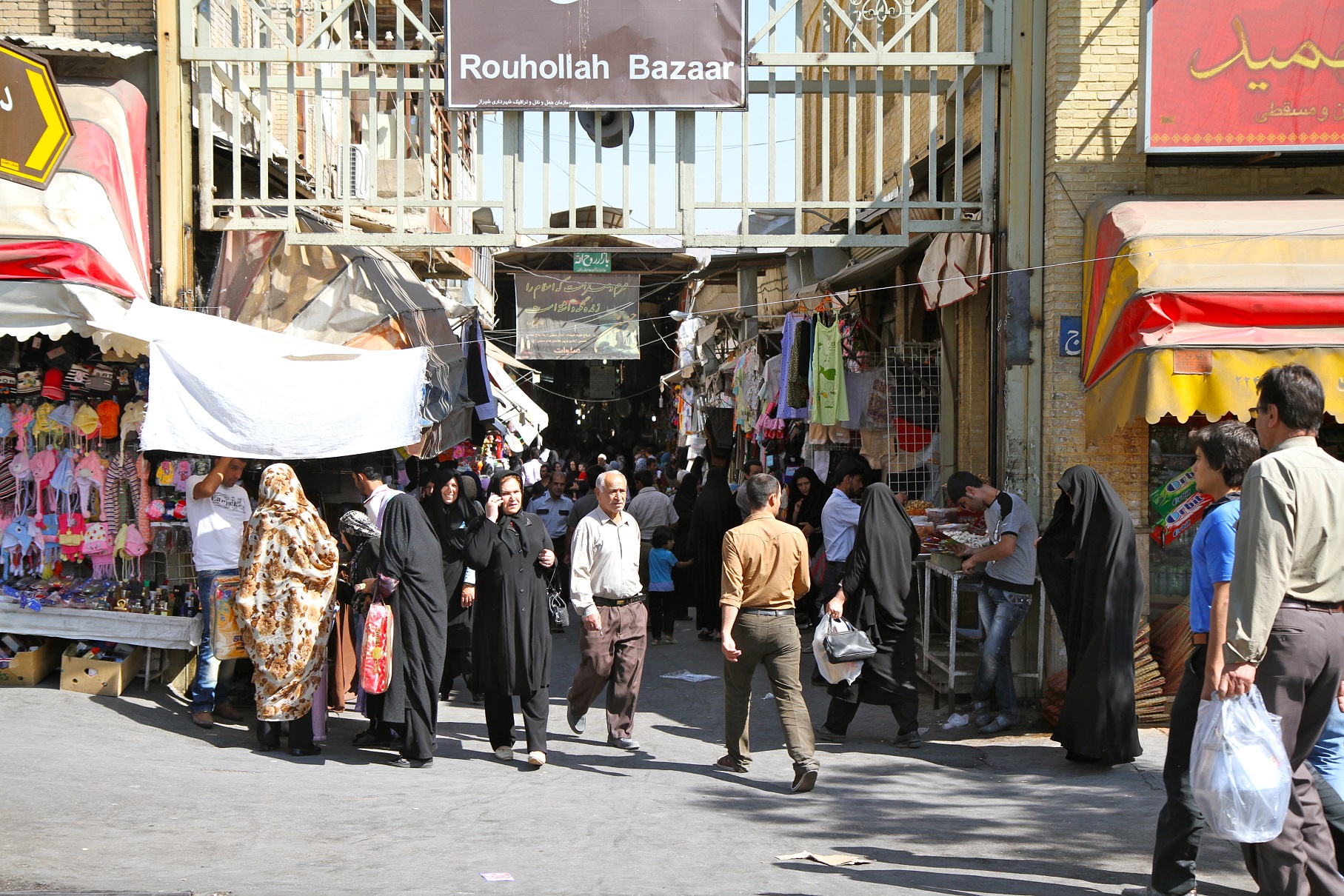 For further tour information or to book a tour, please contact Timeless Tours.
We reserve the right to change all prices and programs without notice
All prices are per person unless otherwise stated
All prices on this website are in Australian Dollars unless otherwise stated