TAKE A LUXURY RAIL-CRUISE FROM SPAIN TO PORTUGAL
4 day 'Tren Al Andalus', Lusitania Itinerary: Seville to Porto
2021 departures:
August: 11
(2021 Printer Friendly Version PDF)
(Timeless Tours All-In-One Spain Luxury Rail Brochure 2021 – coming soon!)
Travelling on the Al Andalus train is like going back in time. Conceived from the start as an exponent of elegance and comfort, its magnificent lounge carriages and its comfortable suites take passengers back to the Golden Age of the foxtrot and sophistication of the Belle Époque. Not surprisingly, carriages belonging to the Al Ándalus train are the same series as those that were built in France at the beginning of the last century to take the members of the British monarchy between Calais and the Cote d'Azur. Step on board the Al Andalus and discover why this palace on wheels is considered the most spacious and luxurious tourist train in the world.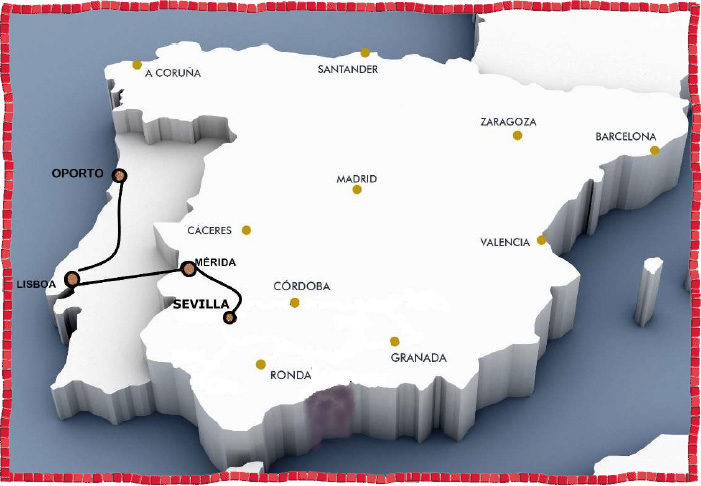 Day 1 (Wednesday)   Seville – Merida
Travellers welcome in Seville, Hotel Alfonso XIII, at 1000. Afterwards, enjoy a visit to the capital of Andalusia, which has the largest historical town centre in Spain. After lunch, enjoy a panoramic view of the city and visit the famous Plaza de España, before all aboard the train to enjoy a welcome drink, meet the crew and settle into your accommodation. Dinner on board on the way to Merida, where you will spend the night.
Day 2 (Thursday)       Merida – Lisbon
Begin your day with the delicious breakfast. Following breakfast visit Merida, a World Heritage Site, the ancient "Emerita Augusta" with one of the most important and extensive archaeological sites in Spain. Enjoy lunch in a typical Extremeno restaurant. In the afternoon we will get back on the train to make our way into Portugal. Dinner on board and overnight in Lisbon.
Day 3 (Friday)             Lisbon – Porto
After breakfast visit the Jeronimos Monastery, a World Heritage Site, the Tower of Belem and the Monument to the Discoverers, then a panoramic tour of the city. Lunch is in a local restaurant. Enjoy free time in the afternoon to explore Lisbon further. Dinner on board while we head north to Porto. Overnight in Porto.
Day 4 (Saturday)        Porto
After breakfast we will say farewell to the crew and train before visiting the Cathedral. Enjoy a boat trip along the Douro River arriving at a wine cellar on the river bank. Lunch is in Porto restaurant. Today you will farewell the group, finishing up the trip at approximately 1700.
2021 Departure Dates
Wednesday
Prices are Per Person
Grand Class
(cabin with twin beds)
Twin Share
Grand Class
(cabin with twin beds)
Single
Deluxe Suite
(cabin with double bed)
Double Share
Deluxe Suite
(cabin with double bed)
Single
August: 11
AUD 4,510
AUD 6,490
AUD 4,870
AUD 7,575
THE TREN AL ANDALUS LUSITANIA TRIP INCLUDES:
-Accommodation onboard in Grand Class Room
-Daily breakfast
-All dinners and lunches (including wine, water, soft drinks, coffee) either aboard the train or in restaurants
-Welcome drink and snack
-Farewell gala dinner & party
-Free mineral water available in the cabin's minibar
-Activities on board: music and live shows, parties in the pub car, etc.
-Tickets to museums, attractions and shows
-Scheduled excursions and tours
-Luxury coach accompanying the train along the trip
-Taxes and services
-Daily newspapers and magazines
-Security service
-Multilingual guide throughout the tour
 Al Andalus – Deluxe Suite – everything included in the Grand Class Room PLUS:
-Accommodation onboard in Deluxe Suite
-All non-alcoholic drinks available in the cabin's minibar (complimentary)
-Opening and closing of the bed in bed-night or sofa-day mode upon request.
-The crew may unpack your luggage onto the wardrobe on arrival and pack it on the last day at your request
OTHER SERVICES AVAILABLE AT PASSENGER'S EXPENSE:
-Laundry service
-Bar service