Turkish Travellers Comments
Cappadocia, Ephesus, Pergamon – A Private Program in Turkey – June 2016
We also want to say we were delighted with our Timeless Tour. Cappadocia was a great in all respects…hotel, hot air balloon, and excellent guide, calling himself Ali. As was Izmir. Hotel a bit tired but in a lovely position, perfect for that purpose, and a brilliant guide calling himself Dennis. So full marks to Tom please, and yourself for putting it together. Flights and transfers all perfect.
Feedback from Michael and Nowell Moffatt – Clients of Judy Mahony, Cherrybrook Travel
Small Group Turkey Coach Tour May 2015
Hi Holly, just a quick note to let you know I am back. I LOVED the Turkey tour (Turkish Odyssey) – I want to repeat it again, it was that good. Our guide from Neon Tours, Kenan, was amazing. He was so knowledgeable about not only Turkey's history, but so many other topics. We also had a great group of people – we all got on really well.
So thank you so much for arranging this for me. I will be recommending you to all my friends – I haven't stopped talking about the tour. 
I will most certainly be recommending and/or using your services for future travel – you are very efficient.
Kind regards, Maria Abicic
March-April in Oman & Turkey
Oman:
Yakob, our guide in Oman with Mark Tours, was an excellent driver and guide- he was flexible with arrangements and extremely knowledgable across a vast range of interesting topics. The Alila hotel at Jabal Akdhar was outstanding, and we would highly recommend it.
Turkey:
The car rental went smoothly, and we were able to rent a Renault Megane which was an automatic diesel, and managed the hills/mountains beautifully. 
The Cappadocia driver and guide were also excellent, and the Museum Hotel was superb.
Thanks again for your assistance in organising such a brilliant trip. 
Kind regards, Helen and Brian Bowring
Private Gallipoli Tour from Cruise Ship Docked in Istanbul
Dear Tom, We had a most interesting and moving tour of Gallipoli. Our guide Izzet Yildirim had done a lot of research for us and was excellent. We wouldn't have been able to understand it all without him – such terrible terrain and Anzac Cove so small.
Alison and Dennis Rose (Alison's cousin was killed during the Gallipoli Campaign).
Family Trip to Turkey – Nov '13
Hi Tom,
Just to let you know that we had a wonderful trip to Turkey. Thanks for all your recommendations and bookings.
It was raining the first few days so didn't see a couple of things I would have liked to but everything else was just fantastic. Such a great experience for our girls.
Once again, thank you, Alison McDonell
Turkey Sojourn – Sept '13
Tom,
To say we enjoyed turkey immensely, the guide Kenan, was great as was the young woman, who showed us Aphrodisiac etc. You do know your stuff Tom. The hotels were amazing partic the Vista Hotel.We went on via Samos, Patmos, Coz, Santorini, Naxos and via Athens to Malta where we spent 9 days. Back in our house in Mallorca now.
Anyway well done Thankyou! Tim and Gully Cavanough
Turkey May 2013
Hi Tom, 
Our trip went very well, thanks, especially the final Cappadoccia leg. The 4oda hotel was beautiful. All the tour guides in Gallipoli, Ephesus and Urgurp were fantastic. Thanks so much for getting our holiday together. Thanks so much for your expert advice. Your knowledge proved invaluable when sorting out our Turkey itinerary independently proved too much for me. I really appreciated your timely and thoughtful communications, too. 
I will certainly recommend your company to others in future. 
Regards, Jane Lucas
Jordan & Turkey – August/September 2013
We have been back a few days and all was excellen t(as usual)….everything organised by Timeless was great…very personal…..and tourism in Jordan is down 90% and turkey 70%…great for us as nobody was around, but I did have some concerns initially especially when looking at the Smart Traveller website (NEVER again as it is totally inaccurate…..saidthat the desert hwy. was closed to get to Petra…not so!!!)…and thanks for suggesting Jerash…fantastic..and the dead sea..weird…..Kempinsky at dead sea is embarrasingly over the top…only has 9 restaurants and 9 swimming pools!!…..in fact alll hotels excellent and well positioned…..all 7 star, except Bodrum which was only 6 star.
David
Private Arrangements for 8 Ladies, Turkey – May/June 2012
Dear Tom,
A big thank you for our wonderful Turkish experience – ei – The Coulton Group.
Firstly -the timing was perfect. We managed to be there before the masses arrived & the days were warm enough to enjoy. We managed a few swims that were absolutely beautiful – especially at Kas.
We loved our accommodation – all in great locations & very comfortable. Our guides were so knowledgeable & so easy and you managed to make our three weeks work with a good balance of sightseeing & rest days.
The stay I enjoyed the most was at Kas. The location of the Kas Otel is as good as it gets & the village so charming. Had we not had an agenda – we may still be there!
Urgup was another very special place – felt very spoilt with our accommodation & the area is fascinating.
Your planning & organisation was second to none – thankyou -we all had a marvellous time.
Thank you again, Rosemary Webster
Family Self-Drive & Sailing Holiday – Turkey May, 2012
Hi Tom,
I want to thank you for organising our trip through Turkey. The yacht charter was fantastic and Andrew and Lesley were the perfect hosts. Great sailing, delightful meals, the sailing locations were simply gorgeous and our hosts became our friends. The Kismet Hotel was one of our most enjoyable stays, a stunning location, a beautifully appointed suite and the friendly staff were memorable. The itinerary you arranged worked very well and the whole holiday has been one of our all time favourites.
I very much appreciate your time and expertise in making our holiday such a wonderful one.
Kind regards, Rob Anderson
Turkish Odyssey Tour, May 2012 (postcard)
Dear Tom and all at Timeless,
This is just to let you know what a wonderful holiday we had in Turkey. The sites visited showed an interesting cross section of Turkish history, as well as being beautiful, with knowledgeable tour leaders – and very helpful. All the hotels were 5*, some with super views of the sea the Rixos in Antalya (upgrade) was especially luxurious, but no sea view.
Thank you very much for all you did to organise the trip.
Yours sincerely, Hilary & Mike Sharman, England, UK
Turkey Individual Arrangements, April/May 2012 (postcard)
Dear Tom
We just wished to say how much we enjoyed Turkey. Would dearly love to go back! The history continuing on from the Ship cruise "Aegean Odyssey" was so interesting and the museums Anatolia, Ankara, Cappadocia and guides were exceptional. Bodrum, Kas and Cappadocia Hotels were a knock out!! Especially Kas!! How did we afford "the Museum" one? I could live there forever!
Regards, Gully and Tim Cavanough
Turkey Tour, April/May, 2012
Dear Tom,
I just wanted to write and tell you how much we enjoyed our trip to Turkey. The advice you gave was excellent. The Hotel Gemir Palace was just the right distance from the Hilton Conference Hotel and the staff were good, but the Nena Hotel in Sultanahmet was exceptionally good.
The rooms were small but the staff could not have been more helpful in every way. We would recommend them any day. We ate in the hotel roof top restaurant 3 evenings, because the food was so good. They even supplied a free Happy Hour drink and buffet, also 25% off the dinner cost
Our tour with Neon was extremely good and good value. We had such a great guide, Altaygur, who loved his country with a passion and made us feel how fortunate we were to be there. He gave the right amount of information with humour and also little niceties such as a flower for all the
Women on Mother's Day.
Thank you for organising such an excellent trip.
Our best wishes, Wilma & Victor Pannikote
Istanbul – September 2011
This is just a short note to express our satisfaction about our stay in Istanbul. The Seven Hills Hotel, was ideal to our needs, well located nearby places of major significance and quality eateries. The service provided by the hotel was very good. The staff at reception/concierge and at breakfast deserve a special mention.
Our tour guide, Can Gunay, provided wonderful service. Not only is he knowledgeable, he is also friendly, genuine, relaxed, and obliging.
The location of The Marmara Pera was also ideal. Check-in was efficient and the staff friendly.
Regards, Michael Borowick (booked via Goldman Travel)
Turkey & Greece September 2011
Hello Holly and Tom,
We are home again and trying to settle down after a wonderful holiday.
We absolutely loved everything we did, Santorini was a favourite in Greece and Cappadoccia in Turkey. The hot air balloon was amazing, I am so glad I did it and it wasn't scary at all.
Turkey is a beautiful country, I feel I could go back and explore all the parts we didn't see, there is never enough time is there.
All our plans went very smoothly thanks to you two, it was a perfectly planned holiday.
Thanks again for all your help and advice.
Regards, Jan Pearce
Turkey – June 2011
Tom,
Just a quick note to thank you for your assistance with our recent trip to Turkey. Your accommodation recommendations were all excellent, the cave house hotel in Cappadocia, the Caravanserai in Kusadasi and the location of our Istanbul hotel were much appreciated. The balloon flight over Cappadocia was a real highlight. We will certainly be recommending your services to anyone interested in visiting Turkey.
Cheers, Mark Atkinson
Turkey May/June 2011 – Denice, Kaye and Mum – little report back
Dear Tom
A quick note to let you know that your independent tour of Turkey which you planned for us was marvellous.
We were happy with everything.  The accommodation was perfect, the hosts very good and so helpful – a particular mention for your man in Antalya.  A lovely, welcoming fellow – I said to him we would tell you what a lovely stay we had there – they couldn't have been nicer.  The cave house in Urgup was gorgeous and the view and position in Kas – what can I say!!  Everything was planned perfectly and went off without a hitch.  Thank you for all your input – the car hire did work perfectly especially for Mum, but for us too of course.  We were very glad to have our own wheels which added a different dimension to our stay in Turkey.  
Anyway, thank you once again for a great itinerary. I will tell others I know of your expertise.
Best wishes, Denice Campbell
PS I have included a post Kaye made on facebook re – driving in Turkey!
After several days driving on Turkish roads, I feel confident I know all 5 road rules:
1. Stop signs are merely a suggestion.
2. The whole road is yours.
3. Two lanes really mean four.
4. At all costs never use your blinker.
5. Beep horn and gesture wildly to alert other road users of all of the above!
Private Arrangements Turkey, May 2011 (postcard)
Dear Tom,
We had a wonderful time in Turkey, not least due to your excellent advice. Matiana was great, Museum Hotel superb.
Thank you, Brian and Onella Stagoll
Turkey – Ozturk Grand Sultan Tour May 2011
Hi Holly,
We did indeed have a wonderful time.
The Turkey tour was just great. Hamit did a wonderful job. At one lunch stop the restaurant was right on the bank of a river and Brian made a remark about how nice it would be to drop in a fishing line and soon after a fellow arrived with a fishing line for him to do just that. The hotels and various restaurants were terrific. The meals Hamit organised were typical Turkish meals that we might not have known to choose in interesting and scenic places. Staying in the old part of Istanbul was also very convenient. All the main tourist attractions were within walking distance and the tram was a block away which went to any of the further afield places of interest including connecting to the funicular to Taksim and the upmarket shops if you wanted to go.
We also enjoyed being able to have the launch trips and swims which would not be possible for large groups. The local guides were also very good.
Brian survived the hot air balloon and said he enjoyed it as they didn't go very high. It was just at the end we went up high to get an overview of the valley he was a bit uneasy. However he was given the "white-knuckle" award by the pilot
Of course such a small group was a great advantage in being able to move more quickly around the busier venues such as Ephesus and gathering everyone back to the bus. They were a very compatible group people and as I guess you know all a similar age group. We are meeting some for dinner soon in Sydney and will have a big get-together when everyone is in back in Australia including Hamit.
Thank you for your organisation.
Kind regards, Beth and Brian
August 2010
The organisation of the land arrangements in Turkey were superbly done, the hotels were fantastic right from the airport hotel at Istanbul airport through to Arcadia back in Istanbul overlooking the Blue Mosque, room 601, brilliant. The Museum Hotel in
Cappadocia was unbelievable, we had the Tafana room overlooking Rose Mountain watching the balloons rise in the morning to sunset in the evening.
Our balloon ride, as quoted by Graham, our pilot, was the best flight he had flown in five months. We took off and glided down through Love Valley across to the town that was built into the mountain but was abandoned when half of it collapsed, across the face of Rose Mountain then up over the mountain to land on the other side. The balloon flights for the next two days lifted off and glided past our
hotel, the wrong direction to Rose Mountain, so we were certainly very lucky. We have spoken to a couple of our friends who are unbelievably envious of our journey and the itinerary that you put together, so I might be sending some of our friends your way to book Turkey land arrangements. Again, on behalf of Sue and I, thank you for arranging an absolutely wonderful holiday that we will remember for a very long time. Cheers for now.
Peter Hewlett, National Sales Manager, Asiana Airlines.
May 2010
We had a marvellous time in Turkey, and loved it all. What an amazing place; the people, the scenery, the food. I'm hoping to go back again next year with another friend, and we're going to spend the time out east. There wasn't time for that this year, as you know. We were fortunate getting as far east as Nemrut Dagi. Our kayaking and Lycian Walk were both wonderful, and we had the best guide you could imagine. And he was a great chef too! 
If you'd like to see some of how it was for us, you could have a look at 
www.daring2go3.blogspot.com
  After the written posts you can scroll down further, and there are more photos down at the bottom. 
The car worked out really well. No problems. As you'll see on the blog we had 'fun' finding our hotels. The open roads are really good, well signposted, and we found the driving easy, but there are so few (if any) street signs in the cities that it was difficult finding our way, even with the Google maps I'd printed off. So we got a cunning plan – we hired a taxi, Darcy got in the taxi with the driver, and we were shown the way. Worked a treat.
 That's funny about us having the record for the most distance for a Turkey car rental. Marie wonders if you read the bit about how good Avis were about returning her camera. I did a Google search on Avis a while back, and that part about her recommending Avis Rentals came up.
Jillian Wilson
May 2010
Just a brief note to offer special thanks for and comment about our most wonderful, recent trip to Turkey.The "Glories of Turkey" was just so very
interesting & enjoyable. The quality and standard of the accommodation, food, sites, transport and the actual guide input were just superb. Not a hitch, just pure enjoyment that kept rolling out each and every day. It was also so easy and effortless, just calling and leaving all of the arrangements (that were obviously so well executed) to you. Our sincere and renewed thanks – we'll be back for more – Margaret & Phillip Reakes
September 2009
John and I had the most wonderful 5 weeks in Turkey which was, in no small part, thanks to you. The hotels you booked us into were perfect – we asked for quaint or different and that they were. They were also central and the views were stupendous!  
Cappadocia was OUT OF THIS WORLD – we were so happy that you recommended we stay there and the Museum Hotel was
FANTASTIC. We just enjoyed that place so much – yes, 4 nights was plenty. Glad we went to Ankara for the day – I thought the Ataturk Mausoleum was well worth the trip. Antalya was a lovely spot to wander around – it was interesting finding our way out of there in the car!! Kas was beautiful – the view from the room and restaurant was out of this world. John had his first swim there and wandering round the town and eating at the restaurants was fun as was boating out to one of the Greek Islands.
Picked up the car at Dalaman Airport for Bodrum; all your instructions were fantastic re finding hotels etc. We had our best meal in Bodrum – a beautiful fish meal -quite memorable and with a view to boot! Ephesus was quite amazing – one of the many highlights. Drop off of car in Kusadasi went perfectly and we then walked, and asked directions many times to find the bus that went to
Sirince (always makes a trip interesting).  
We are so glad you recommended Sirince. Getting to the hotel was interesting – Ahmet wasn't there however the young girl who worked there helped wheel our HUGE cases across cobblestones, drains, rocks, steps and stairs – she was a real champion and always smiling. Our room was very, very quaint as you will know – makes me smile as I remember it. Really enjoyed having drinks on the terrace with Ahmet and another couple from England (she is originally from Mosman!!). Ahmet is a most charming host and showed us to a great
restaurant on our first night. Sirince is a wonderful village to just wander around. We got on famously with the other couple and spent some time with them in Sirince and again in Istanbul.
The pickup to Troy/Gallipoli etc went well and we were soon on our way to Canakkale which was a most interesting town to wander around. We did not go to Troy as we were "ruined" out at that stage and, after seeing Ephesus, knew that we had seen the best by far. Gallipoli – well, what can one say…..such a waste of young lives and for what. We are very glad we went there and found that the one day, although long, was enough.
The Nena Hotel was in a great spot – close to the tram and Turkish bath (yes, we gave it a go – very humorous indeed!) Ah, those
wonderful bubbles. […] The trip was absolutely wonderful – full of magical moments, new adventures, meeting beautiful people, staying in quaint and interesting hotels and with no great hassles. Your instructions and information was most helpful and
suggestions of where to stay, what to do and what to look out for were very handy.
Many, many thanks to you and your staff – I have already recommended you to a friend of mine who is doing a house swap in Istanbul – Debbie & John Flynn
April 2008
Well, Bodrum was a highlight, thanks to you [Timeless], Chris and Bahadir. Chris took me first to the Info centre. Here we waited a little while to try and contact the custodian of the little museum of the Halikarnassus Balikci. No success so we decided to chance it and grabbed a taxi. The museum turned out to be closed but a woman passing by — thanks to Chris's fluent Turkish — promised to ask at the baker's, where she was heading, about the key — and the custodian. Not long after, he and a convoy of three others arrived, laden with tool-bags from which they produced jemmies, hammers and other useful tools. In a jiffy the museum was open and the work men departed. It is a small affair but interesting for someone like me interested in fringe things. There were manuscripts, copies of his books, portraits, photos, some yellowed by age, but fascinating. Chris read from some of the manuscripts written in pencil in English: vivid descriptions of the beauties of Bodrum of his time. There were also family photographs and a family tree. All well worth preserving but with more care than at present. Chris, who knows a surviving family member, tells me his main papers are in Izmir. There's a short book to be written — all I need is collaborator who speaks Turkish? Chris? I did not mention it but should have.
Then to the Myndos gate. Some guide books say there is nothing to see. In a literal way that is true but ruins can speak to us in a way well preserved buildings can't. It was evocative to walk between the pillars, vestiges of the gateway where Alexander entered, and to see remains of old tombs dotted through the trees, was a moving experience for me. Bahadir joined us here and told fascinating stories of excavations there. Then on to the Mausoleum, just a quarry littered with stone remnants but again it can call up ghosts and visions. The model replica gives some idea of its magnificence, if not the callosal lscale. And one original relief has been retained, the rest carted off to the British Museum in typical nineteenth century imperialist style.
The castle and its treasure are of course the piece de resistance as you had prepared me to expect, but was even more fascinating than I had imagined. The amphoras and the story of their retrieval and restoration is just amazing, as it was to see how they were stowed away on the model ship. Not many spills of the precious contents I imagine. By the time we got to the holy of holies, specially opened for me, my energies were flagging a little but how thrilled I was to see so much. Tea in the gardens, overlooked by the peacocks, revived me. Chris was so thoughtful and considerate throughout. By this time Bahadir had left us to take a tour group, having had no lunch break I am afraid. So Bodrum was a great success and a good choice.
This is to thank you Tom and also Chris and Bahadir — I had not realised he had been diver as well as a marine archaeologist – All best wishes, Laurie
PS The Tours info about books to read is a good one I think! [this is available from the Timeless website]
ANZAC '09
Dear Tom,
I returned yesterday from the Anzac Day trip and am writing to say what a wonderful experience. Both Will the leader and Nazli, our local guide were friendly, informative and made the trip all the more successful. My thanks to them for a great experience.
Regards, Lorraine Gaffney
ANZAC Tour 2009
We are at Bangkok Airport, finally on our way home after a wonderful holiday. Just wanted to let you know that we had a great time and Will couldn't do enough for everybody. We would have no hesitation in recommending this trip to anyone. Thanks again!
Cliff and Rae Stern
ANZAC Tour 2008
Tom. We have been home from our tour for 2 weeks now and we wish to let you know of how great the ANZAC tour was for us. Our tour group were very compatable and we got on extremely well. As you would know when a tour group gets on with each other it makes for a first class experience. I am not sure what superlatives could describe Will's knowledge on ANZAC history or that of his efforts in organisation of the tour, but anything that we could say would not go anywhere close enough. We wish to thank Will and our fellow tour members for such a memorable experience. Of course our son Greg and his wife Faye were the instigators of us being on the trip and except for a tummy bug for Greg in Istanbul they also had a wonderful tour. There were many highlights but the standout for us, apart from the actual ceremony on ANZAC day, was our couple of hours at Shrapnel Valley. So serene there you could feel the peace of the place. So beautiful but also so sad. After ANZAC we toured Turkey then went over to the USA to New York then visited friends in Ottawa before heading home via Las Vegas and Honolulu. To have visited ANZAC Cove on ANZAC day is the fullfilment of something we have always wanted to do and thanks to you and your staff it is now a memorable experience. Once again many thanks….Alan & Eileen Jones.
Gallipoli 2008
Just back from our Turkey odyssey and had to let you know it was GREAT!!!!!
Will was just fantastic as our tour leader at Gallipoli and made sure everything ran smoothly – he knows so much about the campaign that although I thought I was well informed about Anzac he taught me facts I didn't know – brilliant.
All told it was a most memorable holiday, and if any of our friends or rel's every indicate they want to go to Turkey we will certainly tell them there is only one way to go — with Timeless. Best regards, Peter Lomax & Di Burt
Gallipoli Tour 2008
We are writing to congratulate Timeless on the quality of the recent tour we undertook to Gallipoli for the 2008 Anzac ceremonies.  It was a more in-depth tour than we had ever imagined that gave us a far better understanding of the tragic events that occurred there in 1915.  The small group enables to access areas that other larger groups could not (we know this first hand from friends who were on a large 45 person tour this year).  The success of the tour was significantly due to the passion and depth of knowledge demonstrated by Will Willis.  He gave us a great insight into the events at Gallipoli not only by taking us to the many sites, but also through his in depth commentary throughout the tour.  Importantly, his commentary was very balanced and delivered without the heavy military flavour one might expect.  Further, he could not do enough to assist all members of the group feel comfortable within their individual physical limitations, ensuring that each person gained the maximum benefit from the tour.
We will have no hesitation in recommending future tours to friends and colleagues. Regards, Julie and David Bell
Turkey/Greece 2006
Hello Tom, Arrived home safely Saturday evening.  We had a great time in Turkey and Greece.  All the travel arrangements worked well, so thank you for your hard work. Will was an excellent guide and help.  He led a very good tour leading up to and including Anzac Day and drove us through spectacular country in Turkey. So, thank you again Tom for your help. Kind regards Peter and Anne 
Gallipoli 2005
I would like to tell how much we enjoyed the whole trip. Your choice of hotels in Istanbul, the Accura and the Richmond were good choices – close to the sights and to the 'feel' of Istanbul. The tour of the battlefields and ANZAC DAY itself were well conduct and well organised.
Thank you very much, Anthony and Ros Fairbrother
Sent to Alan Jones 2GB 2005
Dear Alan,
I have just returned from a trip with my family to Gallipoli for four days including Anzac Day followed by a trip around The Somme battle fields in France visiting the Australian sites and cemetries.
I have tried to instill in my children the heritage of our great country and the debt we owe to so many who have fought for us, especially the fallen.
I have taken my son to every Anzac Day march since he was three and the welcome home march for the Vietnam Veterans. As he is now eighteen I decided the time was right to take him, my sixteen year old daughter and my wife to Gallipoli.
We travelled around the Gallipoli Peninsula with our tour leader, who is a Vietnam Veteran and a Historian and who has now completed seven of these tours. He has a vast knowledge of the Gallipoli Campaign and Turkish History. For four days we travelled to Anzac Cove, Shrapnel Valley, Lone Pine, Johnston's Jolly, Quinns Post, The Neck, Suvla Bay, and Cape Helles.
Whilst I was in France I heard that back in Australia there was a lot of flack directed at young people because of rubbish left at the Dawn Service and that some were laying amongst the graves at the Lone Pine Ceremony. Some Australians just have to be knockers and some in the media are prime examples. There was no fault with the young people and there was minimal damage by the road widening at Anzac Cove, our guide said it has been done in a very sensitive way. What appeared to be massive damage on the television screen is actually the natural terrain.
As you have always supported young Australians I would like to put a view to you from someone who was there, rather than that portrayed through a television camera.
There were over six hundred buses end to end on the entry road to Anzac Cove for the Dawn Service, a line over six kilometres long. My family was on bus No.60 and it took us about fifteen minutes to walk to the site, you can only guess how long it took from bus No.600. We arrived at 10PM the night before and there were already young Australians there who had hiked how many kilometres from neighbouring towns into the site, after back packing across Europe.
During the night I was the coldest I have been in my life, the cold went through to your bones and you could not stop shivering. It certainly drove home the conditions of our diggers coming ashore wet, with pack, rifle and shovel, and under fire. There were twenty thousand of us there over night, of all ages, and there was not one case of bad behavior.
I was just so proud of our young people in the reverence and respect they observed during the service.
We then walked in a long orderly column up the long steep hill to Lone Pine on Second Ridge. Most Australians do not realise and would not believe how far our boys got to over such difficult terrain. This column contained Aussies of all ages, some, like a 78 year old lady with our group, stopping occassionaly for a breather, but all carried to the top with the emotion, all with no sleep.
The ceremony at Lone Pine is a completely different atmosphere, just as the Dawn Service and the March are in Sydney. There would have been at least twelve thousand at Lone Pine.
At both Anzac Cove and Lone Pine my family was lucky to get seats in the stands. At both sites the young people were packed in where ever they could find a space.
I was immensely proud of the reception they gave Mr.Howard, the obvious warmth of these young Australians as they mobbed their Prime Minister and insisted he do a circuit of the site to meet them all was outstanding.
When the Veterans sitting in the stands were called up to sit up the front with the dignitaries, the support they received from these young people was reflected in their faces as they walked forward, they were absolutely amazed and overwhelmed. One eighty year old plus digger kept going, like he was walking on clouds, right up to very front where Mr.Howard insisted he stay. I am a grown man and I have to admit I had tears in my eyes. These old soldiers will remember that moment to their last days, not for shaking the hand of the Prime Minister or Prince Charles, but the overwhelming respect they received from these young Australians.
When we were leaving Lone Pine I turned to the other members of our tour and said I am just so proud of the young people of our country.
The criticism of the rubbish at Anzac Cove is unjust, there were only a few rubbish bins, not nearly enough for twenty thousand. The arm chair critics who were not there do not realise that the War Graves Commission employs the Turkish people to erect and dismantle the stands and clean up the sites, in a country of high unemployment.
Lone Pine was the site of the hardest and costliest fighting for the Aussies in the campaign, between the 6th and 9th August 1915 in 3 days and nights of fighting, there were 2000 Australian casualties and 7000 Turkish casualties. In 1918 a British visitor observed you could still see evidence of the bloodshed.
I honestly believe that a young digger laying in that hallowed ground would feel comfort in a young Australian wrapped in our flag laying next to him.
There was no disrespect, there was only the utmost respect. Australia should be proud of these young people who are the same age and are made of the same character as the boys they were there to honour.
Alan, I realise that this is too long for you to read, but I had to get it off my chest, and you understand young people.
Thank You, Yours sincerely, Warren Baker. Timeless 5 day Anzac Day Program 2005
Thanks 2005
Hi Will….I would firstly like to thank you once again on behalf of Helen, James, Victoria and myself, for making our Gallipoli experience so special….I am absolutely convinced that the trip to Gallipoli and Turkey would have been wasted for the most part if we had not had your knowledge and experience. Your affability, demeanour and sense of humour are a credit to you, as is the group of diverse individuals you managed to blend into such a harmonious whole….Thanks mate, Warren, Helen, James and Victoria Baker.
Thankyou for our Tour of Gallipoli 2005
Just thought I say a huge thankyou for such a wonderful trip. It met all expectations and more. The country was fascinating, the scenery spectacular and the guides and people of Turkey were so welcoming and friendly. Our guides Jasmine and Chris were so knowledgeable and we had a ball with them.
We'd definately recommend this trip to anyone asking and have already convinced a few friends they should check it out.
Once again thankyou so much. We have some fantatstic memories. Many Thanks Noeline Boland
Anzac Day 2005
We had a fantastic time in Gallipoli, much of it due to your expertise and planning. We actually met another couple in France (who we spent a week with – small world) that were in Gallipoli at the same time as our tour group, but they missed the Lone Pine Service as their Turkish tour guide told them to wait for the bus to take them to it. Kirsten and Duncan Bryce
Gallipoli ANZAC Tours 2004
Just a note to say how wonderful the Gallipoli trip was, we really enjoyed it and it was all down to our fabulous tour leader Will. I've been on a number of tours throughout the years and he was by far the best leader ever. Thanks for a great time – we will definitely be recommending Timeless Tours and their Gallipoli trip. Kymberly Clifton
Gallipoli 2003
Traipsing around the (Gallipoli) Peninsula was by far my favourite component of our five week Europe trip. I loved every minute of it.
If the next tour has half as much fun as we had on the trip then they will see it as a trip well spent. Shaun Butler
ANZAC Tour 2003
I took part in your recent tour, the only Kiwi in the group. What a wonderful experience. Will Willis is truly remarkable, so dedicated, enthusiastic and always helpful. And this year of course we had the added bonus of Harvey Broadbent. And I mustn't forget the young local Turkish guide who was excellent, and quite beautiful too!
If you have wondered if improvements could be made, I certainly can't think of any. I will recommend the trip to anyone, and will always look back on my adventure with great pleasure.
[Iam a 2nd generation Anzac. My father survived Gallipoli and went on to endure and survive the Western Front].
Michael Broad, Dunedin, New Zealand.
ANZAC Day at Gallipoli 2003
The safe and satisfying Gallipoli tour provided by your company last month deserves the highest commendation. Your itinerary has a good balance of travel, accommodation and informed commentary. Will's personal identification with the tour party and his insightful explanations of the Gallipoli campaign were absolutely splendid. My wife and I felt your product was excellent value for money and have recommended it highly to our booking agent here in Melbourne. Please forward this greeting on to Will with our warmest thanks. Doug and Bev Davis.
ANZAC 2003
Although it has taken me a good four months to get back to you I would like to take the opportunity to thank you for your assistance in helping me organise my trip through Turkey in April.
I had a great time with the highlight being the ANZAC tour conducted by Timeless. The insight that the four days gave me into a part of my Australian history was unbelievable. Although I knew a little about the history of the ANZACs it was not until I spent the four days with Will and the guy who was writing the book (whose name escapes me) that I truly appreciated what went on there, how it all came about and how it all ended up, truly a great experience. The ANAZC ceremonies themselves were fantastic and made all the better by the great group we had on the tour. It was fantastic how well we all got along with each other, something not always experienced with other tours, and attributed to the way it was lead and conducted. Will's ability to interact with everyone was fantastic. Jon Brennan.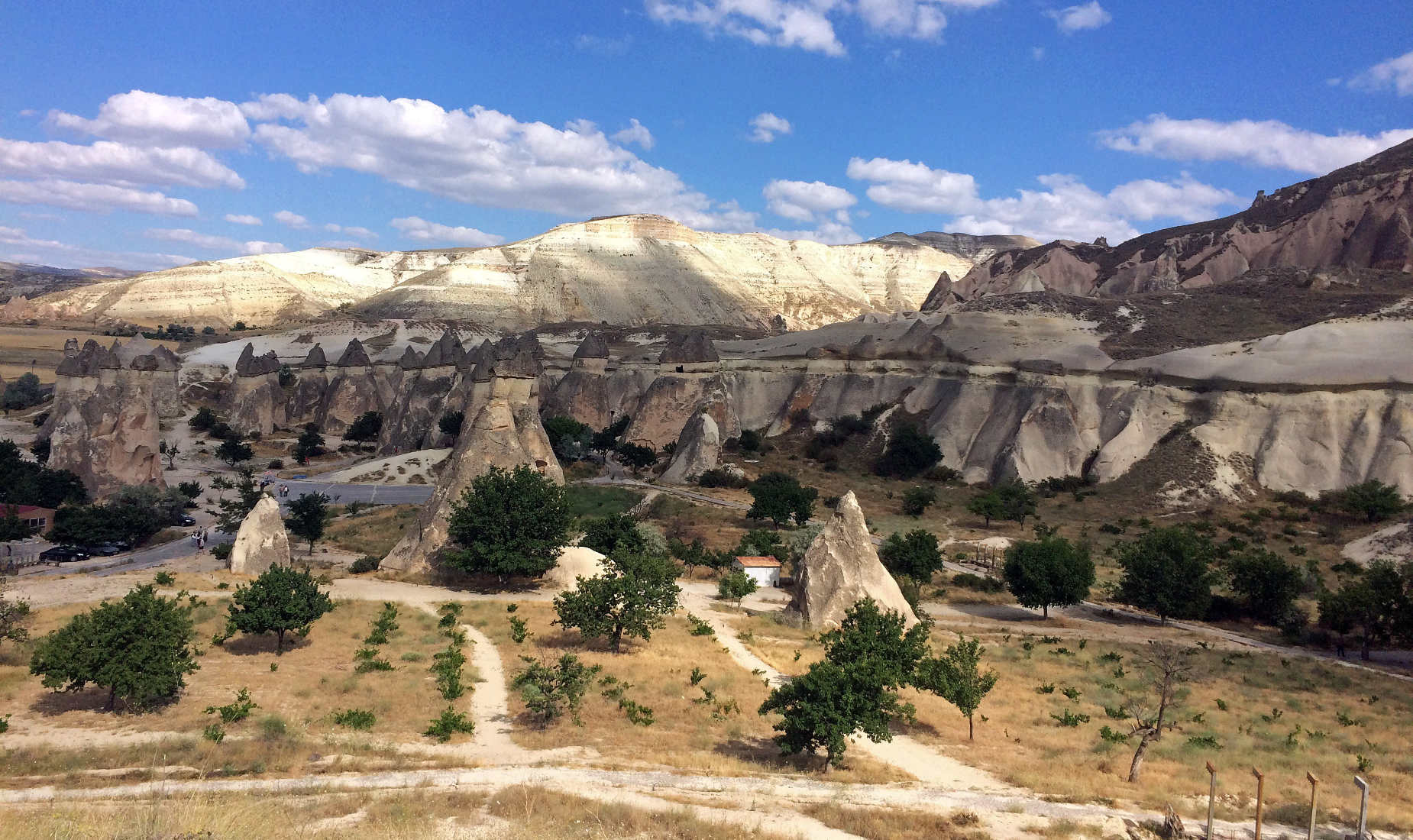 For further tour information or to book a tour, please contact Timeless Tours.
We reserve the right to change all prices and programs without notice
All prices are per person unless otherwise stated
All prices on this website are in Australian Dollars unless otherwise stated