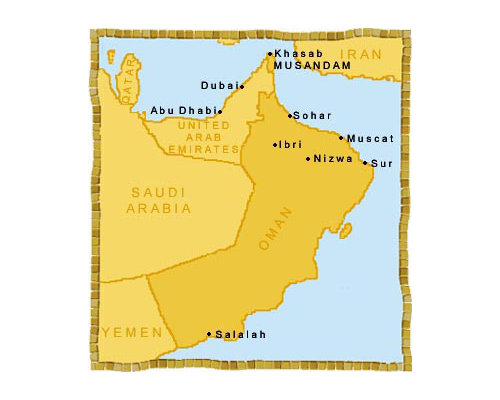 Wonderfully Friendly Arabian Country…
"My holiday to Oman will always be remembered as one of the highlights of my life.
Your organisation was perfect, everything ran so smoothly and there was so much to see, I feel I have only touched the surface.
I could not have been given a more perfect guide, he was always on time, helpful, courteous and very informative and I also have to add a great driver.
My trip to Jabal Akhdar opened my eyes to the most beautiful scenery I have ever seen – so very special."
(Kaye Johnson, single traveller to Oman, February 2018)
Oman is a wonderfully friendly Arabian country easily accessed from nearby Gulf States like Dubai, Bahrain or Qatar. Centuries of proud history have produced a self-reliant but gentle people who have happily embraced the most modern infrastructure and international tourism while maintaining an often traditional lifestyle based on Islam and on centuries of seafaring and desert living.
Oman is a large country with thousands of kilometres of unspoiled coastline, large deserts, spectacular mountains, tropical vegetation in the south and at oases elsewhere and the dramatic fjords of Musandam.
Ancient forts and castles dot the countryside, there is an abundance of marine life in the coastal waters and there are wonderful ancient souks (markets) in all the towns selling jewellery, foods, animals, clothing, handicrafts and traditional products such as frankincense, daggers and perfume.
Muscat, the capital, where city gates were once locked between dusk and dawn, now has a modern airport, freeways, world class hotels, clean beaches and a great variety of local and international foods.
Outside the capital there are world heritage sites, wadis with fresh water springs, massive sand dunes, caves, sinkholes and nature reserves. There are opportunities for the more adventurous to dive, sail, trek, 4 wheel drive and climb.
Still unspoiled by mass tourism but with everything needed for a great holiday, Oman and her people provide the perfect destination both for those who think they've seen it all and those who know they haven't!
WALEED ALY: "Oman is a scandalously ignored gem. It's stunning: titanic desert cliffs meet the sea, freshwater wadis that look like something from a film set, the desert is serene yet forbidding, and strikingly clear water teems with dolphins. It has a wonderful, organic culture, something you don't always get in the Gulf. Oman is also home to something very rare in the Muslim world: an Islamic denomination that's neither Sunni nor Shia but of the Ibadi School, so it remained relatively isolated from the rest of the Muslim world, leaving it to develop a unique culture." Waleed Aly: is a journalist, author, host of Network Ten's The Project and Monash University lecturer in politics. (Traveller – Sydney Morning Herald, 19/4/17)
"OMAN, PROBABLY THE BEST-RUN STATE IN THE ARAB WORLD, REMAINS ALMOST COMPLETELY INVISIBLE TO AUSTRALIAN EYES." (Paul Sheehan, Sydney Morning Herald, 27/6/05)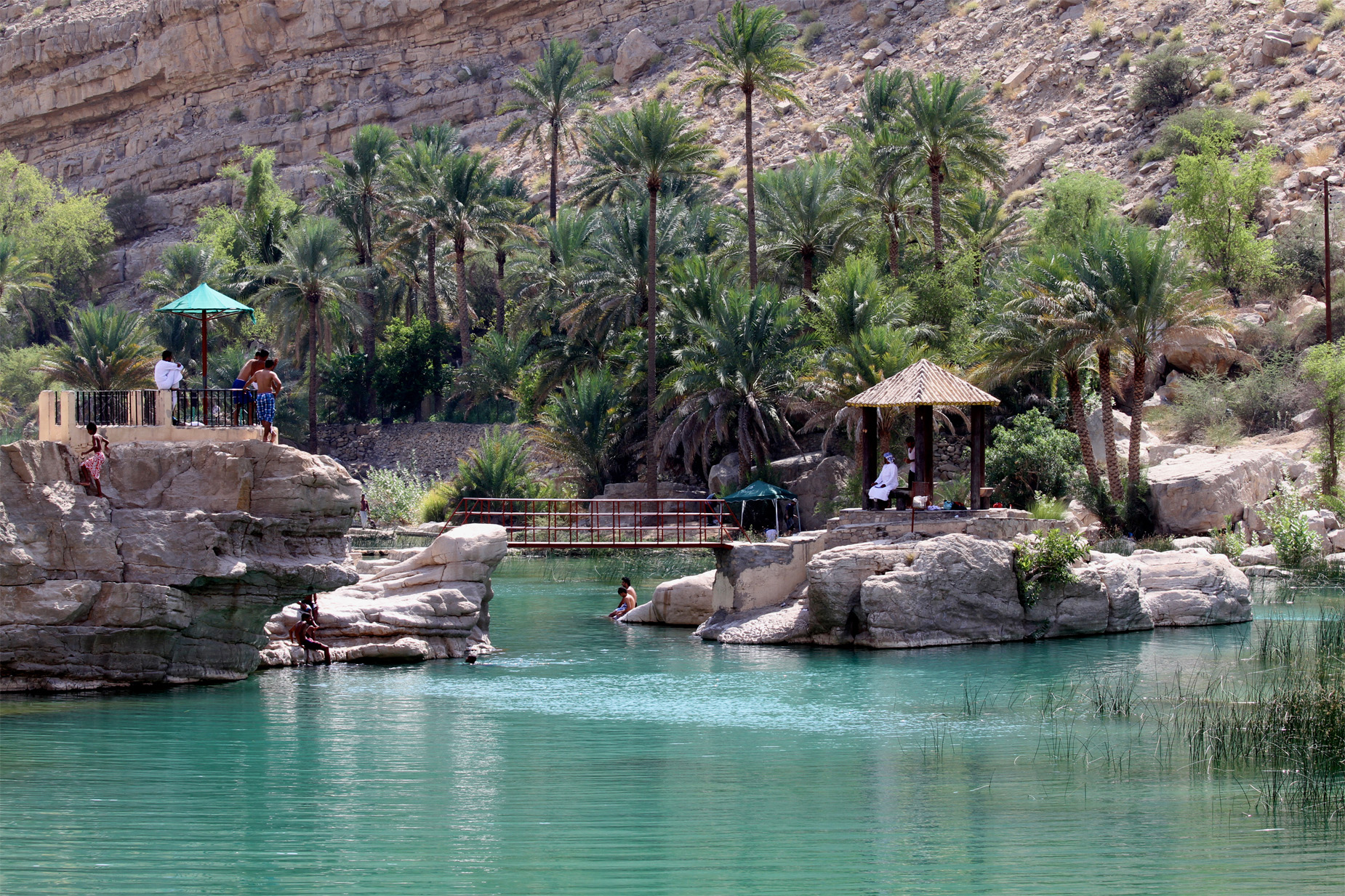 Oman Tourism Brochures
The following are links to brochures produced by the Sultanate of Oman Ministry of Touristm. They can be found on the 'Tourism Oman' site: 
http://tourismoman.com.au
(please be patient, these may take some time to open completely!)
USEFUL INFORMATION ABOUT OMAN…
Languages – Arabic is the official language of the Sultanate of Oman. English, however, is widely spoken and understood. A majority of information signs are in both languages. Most staff and major hotel chains speak German and French.
Time difference – Local time: GMT+ 4
Passport and Entry Requirements – 
ONLINE VISAS
Australian passport holders must apply online through the Royal Oman Police Website before they travel: 
www.evisa.rop.gov.om/voa
The website takes users through the process step-by-step in plain English. The different visa types are clearly described along with pricing and permitted lengths of stay:
Tourist Visa type 26A applies to stays of up to 10 days
Tourist Visa type 26B applies to stays of up to 30 days.
To complete your online application you will need a scanned copy of the photo page of your passport, as well as a digital (jpeg) passport photo.
It really couldn't be simpler.
Australian Embassy,
Abdullah bin Hozafa Al-Sahmi Avenue
Diplomatic Quarter, Riyadh, Saudi Arabia
Telephone: (96 61) 488 7788
Fax: (96 61) 488 7973
Banking Hours – Weekdays in Oman are from Saturdays to Wednesdays. (Thursday and Friday is the weekend). From Sat to Wed: 0730 to 1430
Currency – Omani Rial (OMR). 1 OMR = 3.95 Australian dollar approximately.
US dollars are also useful when travelling. ATMs are widespread and major credit cards are accepted.
Climate – Summer (April-September): Average low to mid-40s. Winter (October to March): Mid 20s to low 30s.
Phone service – phone booths will accept phone cards everywhere.
Medical Service – Hospitals, pharmacies and health clinics are available throughout Oman. Modern hospitals with state-of-the-art equipment can contend with any emergency. Doctors are just a phone call away.
Voltage and Plug Shape – 220-240 volt at 50 cycles.
Dress Requirements – the dress code is fairly liberal in Muscat, although decency is still expected. Women should wear, for example, tops with sleeves and skirts covering the knees or trousers. Men are required to wear trousers and shirts with leaves. Swimwear should be restricted on the beach or pools
Driving – Right hand side of the road.
Accommodation – All types from 5 star hotels and resorts to apartments, camps, guest houses and youth hostels, including many with historical or special character.
Major attractions – Oman is known for its heritage and culture. Main attractions include their spectacular World Heritage Sites, Castles and Forts, Museums, Archaeological Sites, Mosques and Natural Wonders. Opportunities for trekking, climbing, shopping, relaxing on a beach or spending time exploring the natural environment, ancient cities and cultures are everywhere.
Shopping – Oman is unquestionably a great place for shopping as it caters for traditional and cosmopolitan lifestyles, offering a wide selection of shopping venues, experiences and opportunities. Sophisticated shopping malls and authentic traditional markets with their bustling alleys and friendly shopkeepers can provide for the needs of all sectors of the population. In the souks and shops visitors can buy distinctive hand-crafted Omani khanjars, rose-water sprinklers, fragrant frankincense, incense burners, traditional garments, rugs and saddles.
Women's jewellery is probably the finest expression of the silversmith's traditional art. Fascinating pieces of old jewellery are to be found in the souqs, including long dangling earrings, distinctive rings in geometric shapes, a variety of heavy bracelets and even chunkier anklets. Traditional ornate silver necklaces, weighed down with coins and medallions sometimes placed in gold or with large beads of coral or amber, can still be found. They vary in style according to regions.
Traditional Souks are a must see for all tourists visiting Oman: Traditional Arab markets, or souks are found in many towns around Oman. Household items, vegetables, meat, fish, traditional handcraft and, in some souqs like Nizwa and Sinaw, livestock, are all sold. Besides its obvious economic purpose, the souk has long been a meeting place and a social centre bringing communities from different parts of a region together.
PUBLIC HOLIDAYS 2020:
01 Jan             New Year's Day
22 Mar             Ascension of the Prophet
23 Apr             Start of Ramadan
24-26 May       End of Ramadan
23 Jul              Renaissance Day
31 Jul-04 Aug  Feast of Sacrifice
20 Aug            Islamic New Year
29 Oct            Birth of the Prophet
18 Nov            National Day
19 Nov            Sultan's Birthday
For further tour information or to book a tour, please contact Timeless Tours.
We reserve the right to change all prices and programs without notice
All prices are per person unless otherwise stated
All prices on this website are in Australian Dollars unless otherwise stated