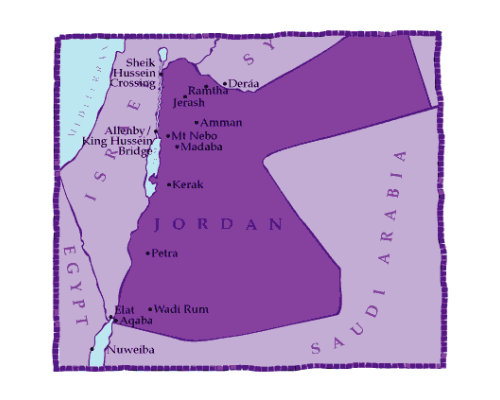 Jordan is a fascinating mix of ancient and modern, offering ready access to the cultures of Egypt, Israel, Iraq, Syria and Saudi Arabia.
Amman, the capital, is a modern, cosmopolitan metropolis with many traces remaining of its rich past. The 'rose red city' of Petra, carved and built by the Nabateans 2000 years ago, is a must to visit. Mt Nebo, reputedly the burial place of Moses, and nearby Madaba have mosaics and churches from more recent times.
Kerak and Shobak are famed for Crusader castles while Jerash, covered by desert for a thousand years, is arguably the best-preserved Roman city anywhere.
Wadi Rum, inhabited by nomadic Bedouin tribes described by Lawrence of Arabia, is today popular for walks, camel treks and 4-wheel-driving while Aqaba, Jordan's only outlet to the sea, has scuba diving and a full range of water sports.
Timeless offers a range of individual and group programs in Jordan. We book tours, stopovers, transfers, hotels, car hire and individualised programs from
3 – 13 days. We design each program individually to suit clients' needs. Many programs involve car with driver and local guides at major sites.
Contact us for details.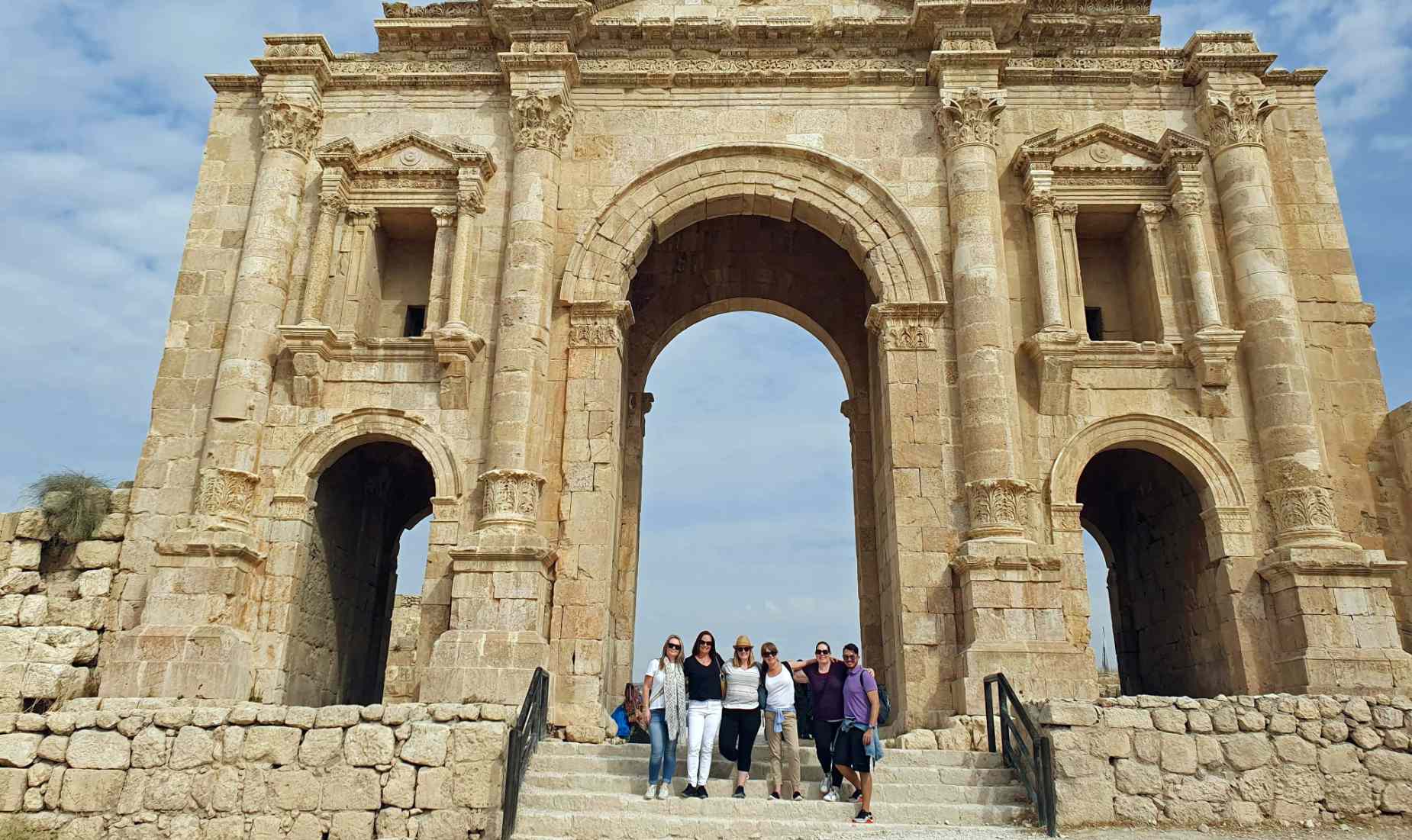 Jordan Tourism Brochures
The following are links to brochures produced by the Jordan Tourism Board. They can also be found on the tourism website: 
www.visitjordan.com
(please be patient, these may take some time to open completely!)
USEFUL INFORMATION ABOUT JORDAN…
Official Name -The Hashemite Kingdom of Jordan.
Population – 5 million (est.)
Capital – Amman
Major Cities – Amman, Zarqa, Aqaba, Irbid, Salt.
Language – Arabic, although English is used in commerce and by many Jordanians especially in tourist locations.
Visas – Australian/NZ passport holders require a visa which may be obtained in advance from the Jordanian Embassy in Canberra. A visa can also be obtained upon arrival at Amman's Queen Alia International Airport. Payment must be in local currency (you can change money at the bank, next to the visa office in the Arrivals Hall).
Visas are valid for two weeks but can be 
extended at any police station. A departure tax of 5 JD is payable at the 
airport or border upon leaving Jordan. (Note that the departure tax is only payable by people leaving through land borders. For those leaving by air, it is already included in the cost of the tickets.
Health – No inoculations are required for entry, although preventative shots for hepatitis, polio, tetanus and typhoid are recommended.
Time Difference – October to March, +2 on GMT. April to September, +3 on.
Currency – The Jordanian Dinar (JD).I Dinar = 1,000 fils. (Some Jordanians refer to piastres instead of fils). 1 Dinar = 100 piastres. Notes: 500 fils; 1,5,10,20,50 dinars
Coins: 5,10,25,50,100,250,500 fils
It is useful to carry some coins and low denomination (1/2 and 1 JD notes), since Jordanians rarely carry enough change for larger transactions.
Banking and Business Hours – In general, banks are open from Sun – Thu 08:30-15:00; some reopen in the afternoon from 15:30-17:30. Currency can also be exchanged at most hotels and at currency exchanges. Friday is a weekly holiday and banks, government offices and most businesses are closed. In general, the following business hours apply:
Private businesses: Sat – Thur: from 080.30 – 13:30 and from 15:00 – 18:00
Government offices: Sun – Thur: from 08:30 – 14:00
Climate – Dry, warm to hot summers (May-Oct) and wet, cool to cold winters (Dec-Feb) with an occasional snow storm. Optimal weather spring and autumn. Amman's elevation means cool evenings. Very little rain in Aqaba and the desert. Regional and elevation variations.
Tipping – Most restaurants include a service charge in which case it is not
necessary to tip waiters. If there is no service charge, tip waiters ten percent of the bill. It is also customary to tip housekeeping personnel in hotels. For hotel bellmen and porters, 1/2 or 1 JD, or US$2 is customary. Taxi drivers do not expect tips but pay to nearest round figure on the meter.
Medical Assistance – Medical services are excellent in Jordan's larger cities and towns. Most doctors speak English. The larger hotels have a doctor on call and embassies will also suggest a doctor or hospital.
Pharmacies – In Amman all-night pharmacies are listed in local newspapers, but travellers should bring any special medication in case it is not available.
Clothing – Even in summer, evenings can be cool, so a sweater or shawl is advisable.
Food and Drink – There are many fine restaurants offering a wide selection of authentic Arabic food at reasonable prices. Hotels offer a mixed menu of Arabic and Continental cuisine. Dishes to try are the national dish, mansaf, a whole stewed lamb with cooked yogurt sauce served on a bed of rice; musakhan, chicken with onions, olive oil, pine seeds and seasoning cooked in an oven on a thick loaf of Arabic bread; maglouba, a meat or fish and vegetable stew served with rice; and, of course, the basic shish kebab, pieces of lamb, marinated chicken and patties of minced and spiced lamb meat all cooked over a charcoal fire with onions and tomatoes.
Numerous small restaurants offer quick meals, both Arabic and Western "fast food" style, including Kentucky Fried Chicken and Pizza Hut.
Alcohol: Is served in most restaurants and bars in the cities, except during Ramadan (non-Arabs can still get a drink in a hotel).
Water: Three-star hotels or better have their own water filtering systems and it is considered safe to drink. For travellers with delicate stomachs, bottled water is cheap and readily available.
Accommodation – Jordan is well equipped with five and four star hotels throughout the country. Hotel and restaurant prices are controlled by the Ministry of Tourism and the Ministry of Supply. Government resthouses with sleeping and dining facilities are located at key tourist sites throughout Jordan.
Travel – Royal Jordanian Airlines offers convenient Australian connections 5 times a week and links Amman with many of the capitals of Europe, South Asia and the Arab world. Other air carriers also operate to Amman.
Coming to Jordan by road/ferry – From Syria – cross from Der'a into Ramtha. From Egypt – a car ferry service operates from Nuweiba to Aqaba. Visas should be obtained in advance.There are three border crossings between Jordan and Israel. The Allenby/King Hussein Bridge, located in the Jordan Valley, is open Su-Th 08:00-14:00 and Fr 08:00-12:00. NOTE: NOTE: Prior visas must be arranged and cannot be obtained at the border.
The other two crossings are the Sheikh Hussein crossing in the north close to Lake Tiberias; and the Wadi Araba crossing in the south connecting the Red Sea resorts of Eilat and Aqaba. These are open Su-Th 08:30-24:00 and Fri-Sa 08:00-18:00. At these crossings, visas for most nationalities can be obtained at the border; prior permits are not needed. However, private cars and tour buses cannot cross – travellers must change vehicles upon crossing. NOTE: These hours and regulations are subject to change.Border crossing can be closed without notice.
Transport – Driving is on the right. A current Australian licence and one year's experience is required. Road signs on the highways are in Arabic and English. Petrol stations and resthouses are at regular intervals. In the city, drivers do not necessarily follow driving rules; horns are used more than turn signals.
Taxis are yellow and plentiful in metropolitan areas. Most have meters. Nearly all drivers speak English. If your taxi does not have a meter, agree a price before beginning your trip. Shared taxis called "services" (pronounced "serveeces") are white and pick up additional passengers until full. They follow a set route. Service drivers are not so likely to speak English. Public buses are inexpensive connecting all areas of the country.
JETT private bus service from Amman to most major tourist destinations.
Major Attractions –
Amman – cosmopolitan capital. Roman ruins, amphitheatre, museums, shopping, dining.
Petra – Nabataean lost city, carved from solid rose-red rock.
Jerash – best preserved of the Roman decapolis cities dating back to the first century BC.
Roman Cities – Jerash, Pella, Um Qais.
Crusader Forts & Desert Castles – Kerak, Shobak, Ajloun, Qasr-l-Hallabat, Qasr Karanah, Qasr Mushatta, Qasr Amra.
Dead Sea – lowest point on earth, thermal spas.
Mt. Nebo, Madaba – religious sites, Byzantine churches, Herod's fortress, Moses' tomb.
River Jordan – baptism site.
Wadi Rum – Arabian desert famous for its Bedouin hospitality and links with Lawrence of Arabia.
Aqaba – Red Sea resort, water sports, coral and exotic fish.
Electricity – 220 AC volts, 50 cycles and requires rounded two-prong plugs.
Communications – Local English language radio, television and newspapers are readily available.
Cultural Considerations – Jordan is primarily a Moslem country, although freedom of all religions is protected. Very revealing clothing is never appropriate, and conservative dress is advisable for both men and women. Shorts are rarely worn by either sex and would be out of place in the downtown areas. Topless sunbathing is prohibited and one-piece swimsuits are preferred, although two-piece swimsuits are accepted at hotels.
Telephone – Telephone services in Jordan are efficient and reliable. Arabic and English directories are available in larger hotels. International direct dialling to most countries from a telephone office or hotel with a three minute minimum charge. Outside Amman public telephones are rare but most small shops and supermarkets will allow you to use their phone for local calls which cost 50 fils. To call a number outside Jordan, dial 00, followed by the country code, area code and the number required. Directory assistance #121 or 640444 for Amman, #131 for the rest of Jordan and #0132 for international numbers. Operators generally speak English.
Holidays – Friday and Saturday are the official weekly days of rest, though many Christian shopkeepers close on Sunday instead.

Islamic religious holiday dates vary by about two weeks every year due to the lunar calendar.
During Ramadan, the holy month of fasting, alcohol is not sold, except to non-Arabs in larger hotels and smoking, eating and drinking in public are prohibited during daylight hours. Many stores, banks and offices open late at 09:00 and close early at 14:00.
PUBLIC HOLIDAYS 2020:
01 Jan             New Year's Day
10 Apr             Good Friday
13 Apr             Easter Monday
01 May            Labour Day
23 Apr             Start of Ramadan
25-27 May       End of Ramadan
25 May            Independence Day
31 Jul-04 Aug   Feast of Sacrifice
20 Aug             Islamic New Year
29 Oct             Mawlid al-Nabi (Birth of the Prophet)
25 Dec             Christmas Day
For further tour information or to book a tour, please contact Timeless Tours.
We reserve the right to change all prices and programs without notice
All prices are per person unless otherwise stated
All prices on this website are in Australian Dollars unless otherwise stated