Jordan – Travellers Comments
Jordan/Israel/Abu Dhabi Family Holiday Oct 2019
Dear Tom
I have been looking forward to reporting back to you in relation to our holiday in Jordan.
We really had a great time and in fact, were always happy with the schedule as planned. We were looking for an adventure and to experience something different. 
Our driver, Madji, was there at the airport to greet us and was reliable throughout our entire journey. He was extremely well educated and could speak English well. He could also speak French fluently. Our family of four enjoyed having the familiarity of the one driver through the week.
Our first full day in Petra was great. Muhammad our Petra guide explained he was required to study for 2 years in order to become a paid guide. Donkey and camel riding was a highlight.
Of course the kids were tired after the long flights and so I couldn't blame them for not wanting to stay awake until 10pm on our 2nd night to go out and see the stars at the Sun City Camp. We met the owner there who clearly ran a very professional operation and it seemed it was probably the best place to stay. The jeep ride was way more fun than the kids had expected and the fact so many movies have been filmed there was comforting given it was all so foreign to us and were in the middle of the desert.
The Dead Sea Marriott was the place to stay for sure. The kids were fascinated by the salty water and how they floated on top. Also, so interesting to know the area there is -380m below sea level – being the lowest place on earth. FYI – the kids were excited we stayed the extra day at the Dead Sea given they liked it so much and were a little apprehensive about the border crossing 'to the other side' (as referred to by the locals).
Crossing the border from Jordan to Israel went smoothly. In fact the Israeli military definitely treated us well and in fact rushed us past long lines of large tourist groups. I don't really know what we would have done otherwise. So what you had arranged couldn't have been better, in fact we were all pleasantly surprised.
Jerusalem was busy and obviously educational for the kids and of course we could have seen more if we had more time however were ready to get back to Jordan so – all good.
The morning we crossed back to Jordan, was a little busy given the bridge was only open for 3 hours however all went smoothly and Mudji was there waiting to pick us up as scheduled perfectly. We kept in contact with our driver via Whatsapp.
We made an unscheduled visit to the Ma'in hot springs going directly from the border crossing on our way to Amman. It was boiling, refreshing and incredibly natural.
Afterwards we made a quick stop to meet Basel and Viola which was a great experience to be invited into the home of a Jordanian family.
The House, Boutique accommodation was great and we walked past the Iraqi and British Embassies followed by the King of Jordan club towards Rainbow St for dinner at Sufra. Nothing prepares you for the Call to Prayer that occurred from the mosque located next door and above us as we dined outside. A couple of older looking military planes sauntered overhead that night too and I wondered if it may have had something to do with the fact Trump had pulled US troops out of Syria and Turkey had responded that day by bombing northern Syria. With over 1.2 million Syrian refugees already in tents in the north of Jordan I couldn't help but wonder what the Jordan citizens must be feeling.
We left Amman the next day.
All in all, we learned so much and as a parent it was nice to hear both kids say they realise how lucky they are here in Australia.
THANK YOU TOM. As we ventured on, we genuinely felt we had obviously found the best travel agent.
Mary
4 Week Private Tour in Jordan, Iran, Doha – October 2018
Hi Tom
Thank you for organising our trip. We had a great time.
Jordan was well arranged with just the right amount of time in each place. Jerash was an added highlight as we hadn't realised it would be so well preserved in many parts. Had an excellent guide there so we spent more hours at the site than we would have expected to.
Also had an excellent guide at Petra so once again did more walking there than expected. Our guide also encouraged Des to try walking to the Treasury so that he could explain about things, like the tombs that we could see on the way. Des was very glad he did. However, we returned by carriage.
Weather, of course, was perfect.
We enjoyed Jordan but Iran surpassed our expectations and we loved every minute.
The organisation of the trip was excellent and our driver/guide was the best we have ever had. His driving was very good and he had an excellent knowledge of history and a very personal interest in it.
We found that the roads were very good and Ali's Peugeot very comfortable. It is 5 years old, made in Iran to a 14 yr old Peugeot pattern. I sat in the back seat just about all the time – it was just as good as the front seat and we were not in any winding mountain roads.
We are glad we had the extra day in Esfahan. It meant we had time to do a bit more sightseeing. Such as an evening performance of Zurkaneh in an old water cistern which our guide suggested. It should be on every traveller's itinerary if they have the time. We enjoyed quite a few meals with our guide. He suggested good restaurants in Shiraz, Yazd, Kashan and Teheran. We also went to 2 modern shopping centres with a food court and a very modern highway stop (shopping and food centre) on the way from Kashan to Teheran.
Weather was perfect – just a little rain on our final morning in Tehran.
We really liked Qatar Airways. I found the bed more comfortable than other airlines and slept for 5 hours straight on our return journey. Then another 2 hours. Staff very attentive. Airport very good. The Qatar Business Lounge excellent.
Went to the Islamic Arts Museum [Doha] on two consecutive days. And still didn't see all of it! It's very good.
We would definitely recommend this trip.
Thanks again, Best Regards, Barbara
Jordan – Crow Family Trip – September 2018
Firstly and most importantly it was a fantastic holiday. We loved Jordan, the Jordanians and each place we went to. Our only regret was not having more time there – for which we only have ourselves to blame. We had 2 nights in Amman but there was plenty more to see. We would have liked one more day. We would have liked another night at Petra so we could have relaxed by the pool after walking for 5 hours in 30+ temperatures.
It would also have been nice to have had time for the 6 hour walk from Dana village to the Ecolodge at the other end of the biosphere and to stay a night there. Instead we did a fascinating 2 hour walk on the terraces near the village with a local guide who was charming and very knowledgeable.
The four hotels were excellent. The House in Amman was new and quite luxurious, with a rooftop pool and bar that was great after a day of sightseeing. It was a short walk to Al Rainbow Street where we found a great restaurant called Sufra. The previous night we had been taken on a tour of the old city and…for traditional Jordanian food like mansaf, freekeh and kanafeh by friends.
Dana village was very small, so the quality of the Dana Guest House was surprising. Its staff were very helpful and the view from the rooms was spectacular. Its dinner was good which was important because there was really no alternative. Both Movenpicks were fabulous.
The Jabal Rum Camp was disappointing…. but Wadi Tours gave us a complimentary tour of Karak Castle. The 4WD tour of Wadi Rum was awesome however and the camp will not spoil our happy memories.
Everything was well organised. Wadi Tours' airport concierges were efficient and friendly, and the JETT driver,
Thanks again for all your organising. We'll definitely recommend your company.
Rod Crow
Jordan & Turkey – August/September 2013
We have been back a few days and all was excellen t(as usual)….everything organised by Timeless was great…very personal…..and tourism in Jordan is down 90% and turkey 70%…great for us as nobody was around, but I did have some concerns initially especially when looking at the Smart Traveller website (NEVER again as it is totally inaccurate…..saidthat the desert hwy. was closed to get to Petra…not so!!!)…and thanks for suggesting Jerash…fantastic..and the dead sea..weird…..Kempinsky at dead sea is embarrasingly over the top…only has 9 restaurants and 9 swimming pools!!…..in fact alll hotels excellent and well positioned…..all 7 star, except Bodrum which was only 6 star.
David
Jordan & Syria 2010
Jim and I are home safe and sound after a wonderful trip to Syria and Jordan. It went perfectly to plan and we
experienced everything we wanted to. Our only complaint was that we needed two months rather then two weeks. Thank you for your fantastic organisation (great hotels especially Dar Al-Yasmine in Damascus and the one in Hama) and the little surprises e.g. the horse ride into Petra and swim at a resort at the Dead Sea.
Drivers and guides were all excellent and passing through customs etc in Damascus was a breeze. The hotel Cilicia in Aleppo was in a great location. It was very clean and the staff couldn't have been more helpful.
Thank you again for organising this trip of a lifetime. We have already recommended you to two other people in the Southern Highlands – Lorraine & Jim McAlpine
Jordan / Syria / Turkey Travels
Thought you'd like to know how the trip is going. We're in Petra today, heading out to the ruins shortly. Syria was great, loved Aleppo, probably our favourite, but Damascus was fascinating as well. Palmyra and Jerash were also very interesting.
Everything went fairly smoothly crossing the border from Turkey; Hamit took us to the bus station and we caught a bus which left about 12:30pm. Leaving Turkey was okay, just had to get our passports stamped and the boy from the bus handled getting the passports signed at the Syrian side, all in all it took about an hour. Hussein, our driver met us at the border and took us to the hotel in Aleppo. We both think it would have been easier to just get the bus straight through to Aleppo, and get picked up at the bus station in Aleppo. The hotels have been just great, mainly small boutique hotels, just what we like.
The program has worked well, we've enjoyed everything and we've had plenty of free time to wander around. Our guide, Ahmed and
driver, Hussein, in Turkey were both great, and our driver in Jordan, Raad, is excellent. Their English is very good, and they have all been very nice people, so no complaints. Really looking forward to seeing Petra, I'm sure it will live up to its reputation. Jordan has been just wonderful, the people are great and we loved the trip to Wadi Rum. We're now in the Dead Sea Spa Resort, just lovely way to finish off. –  Val and Pat
Jordan / Syria / Lebanon – March/April 2010
Lebanon: No problems with entry to Lebanon and no visa required.  No payments asked for.  Processing at airport very slow. Sylvia a good guide and the driver Hassan was good too.  Hassan, in particular, was extremely intelligent and a hive of information, particularly on current political and social events.
All sites visited in Lebanon were great, although we were slightly disappointed with Byblos, largely because key features had been
relocated to provide better viewing for tourists rather than being left in situ. Jeita caves a revelation. Cedars lovely, Anjar and especially Ba'albek were great.
An unscheduled highlight was a visit to the Mouawad Palace on Sylvia's recommendation, a private museum in
Beirut, set up by a wealthy Lebanese jeweller (now a resident of Switzerland), showcasing fabulous furniture, ceramics and jewellery, including a diamond encrusted bra worth about eleven million dollars.  Could be worth including on future programs.
Syria: No problems at border although a bit slow.  Already had visa and I think this helps move things along. Guide Ahmad Al'Shalabi was terrific.  A young man (30 years old) but we got on very well and had many interesting discussions on a range of topics.  Highly
recommended (…) Ahmed was an intelligent, educated, "with-it" young man while Mr Nabile was anything but. Ahmed even took us to have afternoon tea with his mother at her house outside of  Damascus (…).
Syria was our particular favourite of the countries we visited.  Compared to Lebanon where there are banks and ATMs about every block, Syria has virtually none so potential tourists need to be advised about changing money when they can, particularly in centres other than Aleppo or Damascus. Sites in Syria exceeded our expectations.
Crac des Chevaliers, Apamea, St Simeon, Rassafeh, Palmyra and Bosra were all fantastic. Aleppo and Damascus museums also excellent.  I think we got more out of visiting the various sites first followed by the visit to the museum in Damascus on the last day – meant more to us than perhaps doing it the other way round.
I know we wanted to go along the Euphrates and we liked the drive.  However it is possibly not an area that would appeal to everyone.  From Aleppo to Deir ez Zor was great and from there to Palmyra too but the extra bit down to Mari and back not really worthwhile as the Mari site is currently undergoing more renovation and hard to see much.
Being close to the Iraq border was exciting! Loved Aleppo and Damascus – both fascinating cities.
Jordan: Our driver Sufyan was excellent.  In fact he took our basic program and rearranged the timing to make much better use of time.  One thing we discovered too late is that it is possible to do a day tour to Jerusalem from Amman (possibly from Dead Sea resorts) and we would have done this had we known.  You get a special 'visa' at border on Allenby Bridge) but require a double entry visa for Jordan.
Dead Sea Spa superb.  Perfect place to spend last afternoon.
One aspect not quite clear to us was the extent to which we could 'impose' on guide/driver.  We didn't really need them hanging around for us on most occasions but there were a couple of instances (eg at Badiat Cham) when it might have been helpful to have them
available after the day's touring.  Probably need to be spelled out to customers.
All in all, a fascinating trip and experience which we would strongly recommend to others. Arabic people a delight and so friendly – Roger and Helen Allnutt
Jordan / Syria / Israel
We are now half way through our holiday and have been glad of the couple of days respite in Tel Aviv.
Damascus was great, people were lovely and the place very atmospheric. The hotel was very good – definitely recommend it – and had its own Hamam bath house. Our guide Lena and our driver were both really nice – funny and warm and we felt very comfortable with them. All of the places on our itinerary were well maintained/reconstructed and all were worth the visit.
As for Syria, the trip through Jordan was seamless. Our driver was great – Joseph – and had spent several years in the USA before being deported after overstaying his visa, so spoke good English with a black American accent. Petra was very hot but our guide was
informative and we took donkeys for a lot of the time inside. The hotel at Wadi Musa was excellent – a whole 'house' all to ourselves and again very atmospheric. The camp at Wadi Rum was well organised and the VIP tent was a bonus. We went for the obligatory camel ride at sunset with a nice young Bedouin and next day had the 4 hours in a 4WD, which was also very good. Aqaba was very hot and dusty but our driver organised a glass-bottomed boat for the afternoon and we had a very good snorkel on a coral bommy . We left Aqaba in a dust storm. We could see Eilat across the way which we will be going to in a week or so – silly having two cities so close never to mix. From Aqaba we could see Saudi Arabia, Jordan, Israel and Egypt.
Tel Aviv is like any western city, not that we have seen much of it. Rode to Jaffa today on the hotel's loan bikes – it was hot and muggy so we took it easy.
So far the highlights of the trip have been in Syria and we couldn't speak more highly of it as a destination, and Petra and Jerash (which was excellent). Tomorrow our guide is picking us up for the northern Israel part of the trip – Mark and Bindy
Syria/Jordan Trip 2009
Dear Tom,
Just a quick note to let you know how fabulous the trip was. Everything went very smoothly particularly in Syria and Lebanon , our guide in Syria was a lovely, extremely informative lady who was passionate about her country.
In Lebanon also, even though it was a brief stay, we had another lovely guide. They are hoping that more tourists start visiting Lebanon again so please spread the word to your clients. The rebuilding of Beirut is so impressive with beautifully restored buildings and the city has an air of sophistication. Our hotel was close to the sea and it was very pleasant to stroll along the Corniche that runs along by the sea. The food was excellent and we had lunch at some very nice places particularly in Damascus and Aleppo, beautiful restaurants with central courtyards and fountains.
Forgot to mention Dubai – quite amazing place but so artificial. We thoroughly enjoyed the Desert Safari, very exciting dune bashing and very nice meal. Wish we were still over there. Thanks again! Kind Regards, Maree and Greg.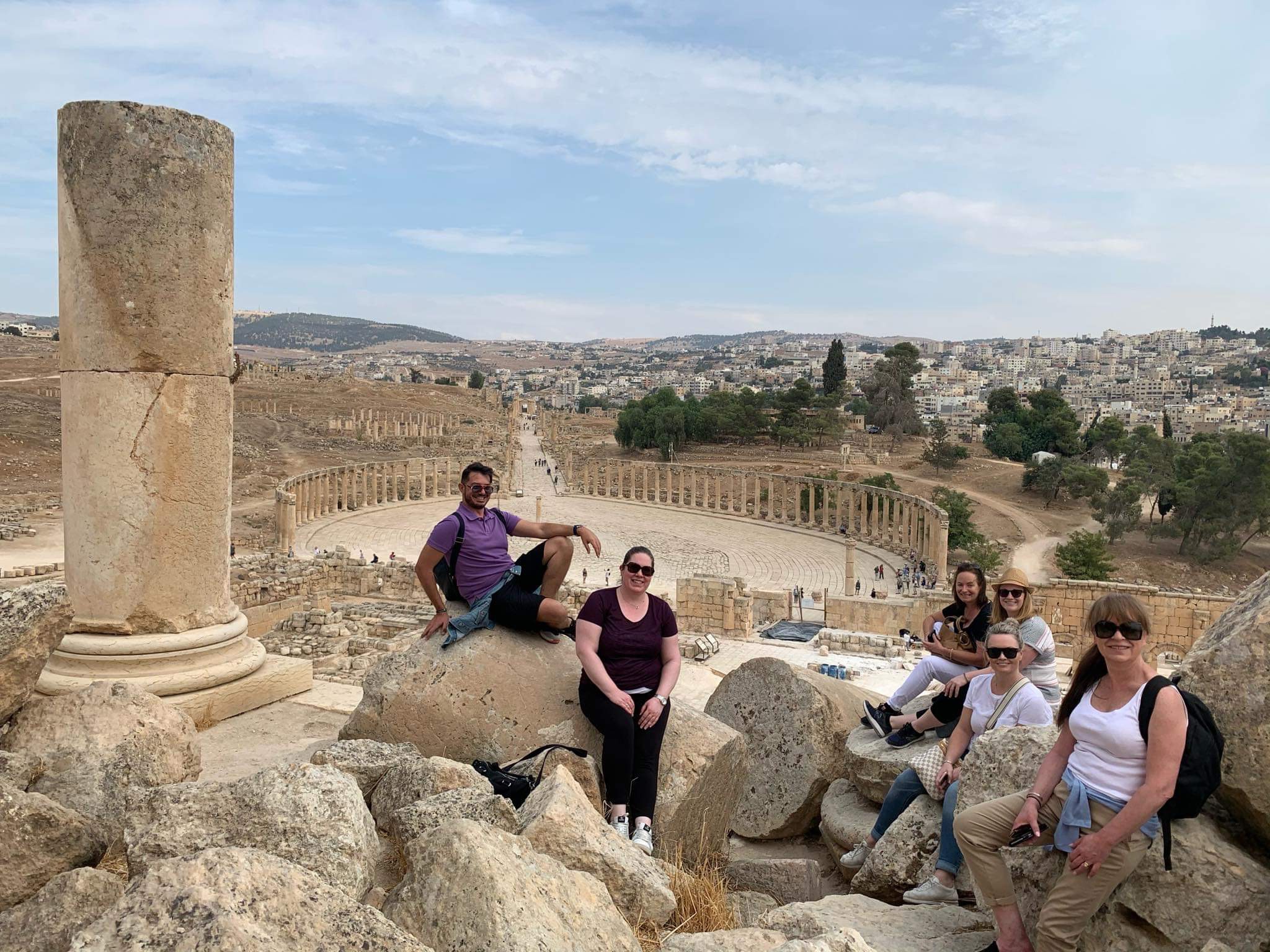 For further tour information or to book a tour, please contact Timeless Tours.
We reserve the right to change all prices and programs without notice
All prices are per person unless otherwise stated
All prices on this website are in Australian Dollars unless otherwise stated