TAKE A SPANISH RAIL-CRUISE IN NORTHERN SPAIN
6 day 'Costa Verde Express', Santiago de Compostela to Bilbao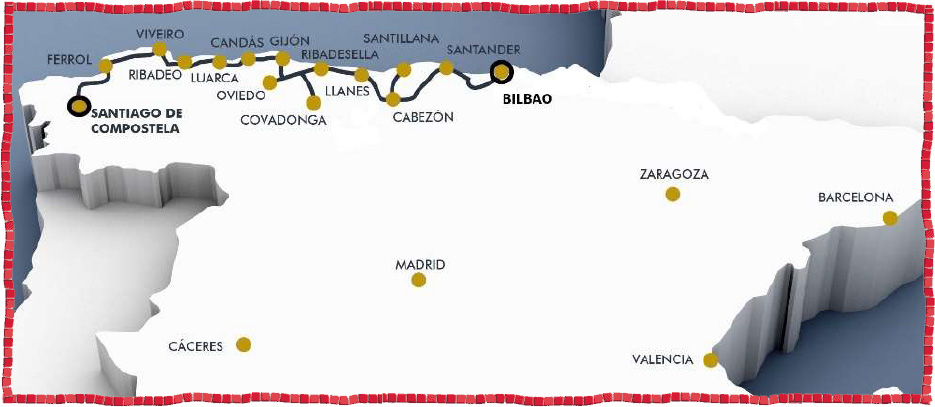 2021 departures:
June: 26
July: 10, 24
September: 4, 18
October: 2, 16
(2021 Printer Friendly Version PDF)
(Timeless Tours All-In-One Spain Luxury Rail Brochure 2021 – coming soon!)
Enjoy a gastronomic and cultural journey through Green Spain, travelling through and visiting the Basque Country, Cantabria, Asturias and Galicia on a luxury train. A train that will take you to the golden age of great rail journeys, while still enjoying all the modern comforts and amenities of the 21st century.
Costa Verde Express offers this and much more. A 6 day trip to enjoy and experience with all the senses.
Day 1 (Saturday)        Santiago de Compostela – Ferrol – Viveiro
Welcome meeting at Parador Reyes Catolicos in Santiago de Compostela at 1000. Visit Santiago followed by lunch. In the afternoon travel by coach to Ferrol where our train and crew are waiting. Visit Viveiro followed by free time, dinner and overnight in Viveiro.
Day 2 (Sunday)          Viveiro – Ribadeo – Luarca – Candas
Enjoy your breakfast to the clickety-clack of the rails while we travel to Ribadeo for a visit, free time and lunch. In the afternoon continue for a visit of the first Asturian stop, Luarca, the White Village of the Green Coast. Dinner and overnight stay in Candas.
Day 3 (Monday)          Aviles – Gijon – Oviedo – Arriondas
After breakfast depart by coach to visit Aviles and then Gijon. In the afternoon we will visit Oviedo and enjoy free time. In the afternoon the train will continue onto Arriondas for dinner and overnight.
Day 4 (Tuesday)         Picos de Europa – Llanes – Cabezon de la Sal
After breakfast depart by coach for the magnificent Picos de Europa National Park, ascending to Enol Lake, and the Covadonga Sanctuary; a sacred place full of tradition and legend, and to the first capital of the Astur Kingdom; Cangas de Onis. Lunch. In the afternoon visit the village of Llanes and then travel by train to Cantabrian lands with dinner on board and overnight in Cabezone de la Sal.
Day 5 (Wednesday)   Santillana del Mar – Santander
After breakfast visit to the town of Santillana del Mar, with its magnificently preserved Medieval historic quarter and the famous Altamira 'Neocave', a museum and scientific reproduction of the finest Upper Palaeolithic rock art ever found. Enjoy lunch on board while we travel to Santander for a visit and free time. Dinner in a restaurant and time to visit the Casino del Sardinero. Overnight in Santander.
Day 6 (Thursday)       Santander – Bilboa
Enjoy breakfast as we travel into Basque lands, reaching Bilbao for a visit and lunch. Your trip finishes after lunch when we collect our luggage and say farewell at approximately 1600.
2021 Departure Dates
Saturdays
Per Person
in Double
Per Person
inSingle
June: 26
July: 10, 24
September: 4, 18
October: 2, 16
AUD 5,770
AUD 7,935
THE COSTA VERDE EXPRESS TRAIN TRIP INCLUDES:
-Accommodation onboard in Grand Class Room (double) with en suite bathroom
-Daily breakfasts
-All dinners and lunches (including wine, water, soft drinks, coffee) either aboard the train or in restaurants
-Welcome drink and snack
-Farewell Gala dinner & party
-Mineral water available in the cabin's minibar
-Activities on board: music and live shows, parties in the pub car
-Tickets to museums, attractions and shows
-Scheduled excursions and tours
-Luxury coach accompanying the train along the trip
-Taxes and services
-Daily newspapers and magazines
-Security service
-Multilingual guide throughout the tour
OTHER SERVICES AVAILABLE AT PASSENGER'S EXPENSE:
-Laundry service
-Bar service